Andi – Patient Care Specialist/RDA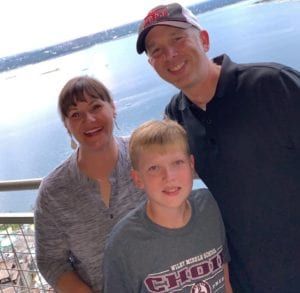 Andi grew up in the beautiful State of Wyoming where there are definitely more antelope than there are people. If you know Andi, you know that she is a "Social Butterfly" and loves being around people, so this could definitely complicate things at times.
After graduating high school, she moved to Mississippi and attended the University of Southern Mississippi where she was a member of the USM Women's Soccer Team and majored in Sociology. Following graduation in 2000, she and her husband moved to the Austin, TX area.
Since moving to Texas, Andi has acquired over 15 years of casework experience, working with individuals of Texas who suffer from mental health issues. She also worked as a Disability Examiner for Disability Determination Services for the State of Texas for 12 years.
Four years ago, she decided to make a career change and joined the AWESOME Dental World. This was the best decision ever and she is having so much fun getting to know all of her patients and all of the dental professionals in her community. She values each and every patient that walks through the door of Grace Dental.
Andi and her husband, Jason, have one little boy and are very involved with everything that he is doing. And by everything, that would mostly be watching her husband coach their son's baseball team and cheering them both on. GO ASTROS! It is so much fun being a "Baseball Mom." In her free time, she loves going to the movies and spending time with her family and friends. Life is Good Ya'll!